 Have the power of a full box office at your fingertips! Sell and scan tickets in seconds. Did we mention it works offline?
GET STARTED
or request info
We Rock Our Box Office
For more than ten years, HoldMyTicket has consistently worked to build and offer our clients all the tools they need to manage, promote, and market your event.
Conquer Walk-Up Sales
Accept cash, credit, check, and other custom payment types with Swam Box Office. Generating instant email and text receipts, applying promos and discounts are a breeze!
Real data matters
Swarm Box Office captures the critical data you need to market and engage with attendees after your event. Empower your organization with accurate insights and analytics.
Reserved Seating
Selling and managing seating has never been easier. Upgrade orders, manage holds, exchange seats, void/release seats and more in one single mobile and desktop app.
No Wifi? No Problem!
Swarm Box Office's offline mode ensures that your event never pays the price for network instability. Continue to validate patrons with a fully functional box office.
Seamless hardware
Does your event require additional hardware? Swarm Box Office is compatible with Boca/Star printers, case drawers, Linea Pro, Magtek swipers, and more. Take a look at our shop for supported equipment.
Sell securely
All payments processed in Swarm Box Office are handled under strict PCI Level 1 compliance. We incorporate industry best practices to make sure your data is secured.
One App. Any Device
Swarm Box Office is a simple yet powerful app designed to accommodate any type of event. Swarm was built with the intention of working on any platform, supporting iOS, Android, Windows, Mac and web browsers.
A box office solution made for mobile
● On the fly, mobile sales platform
● Intuitive reserved seating interface
● Seamless hardware integrations
● Realime reporting + event analytics
● Marketing + social media widgets
● Event + attendee enagagement
● Reduce entry wait times
● Compatible on Mac, iOS, Windows, and Android devices
● Designed for any event or venue
● User friendly
● Offline compatibility
● Ticketless validation
● 24/7/365 customer support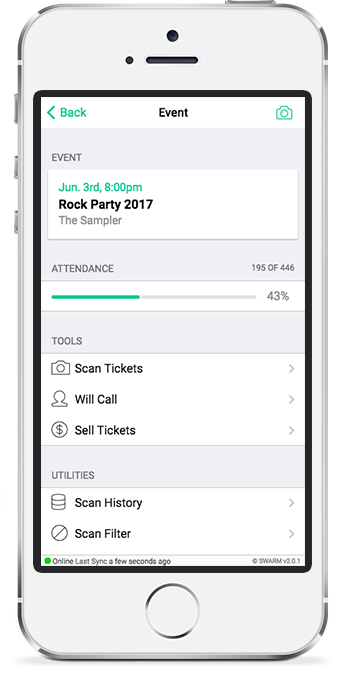 Learn More
Interested in a demo or ready to sign up? Contact us below and one of our team members will be in touch!
OR
Download Swarm
Already have an account and just need to download the app?
OR
*Printer integration limited with web app